Evie's Wordy Wednesday
Book Review--Prophecy of the Sisters by Michelle Zink
An ancient prophecy divides two sisters.
One good. One evil. Only one will prevail...
Sixteen year-old Lia Milthorpe has just recently lost her father, leaving her parentless. But when a strange mark appears on her wrist, she realizes she is being branded with much more than her newfound title of orphan. Lia and her twin sister Alice are part of an ancient prophecy that has turned generations of sisters against each other.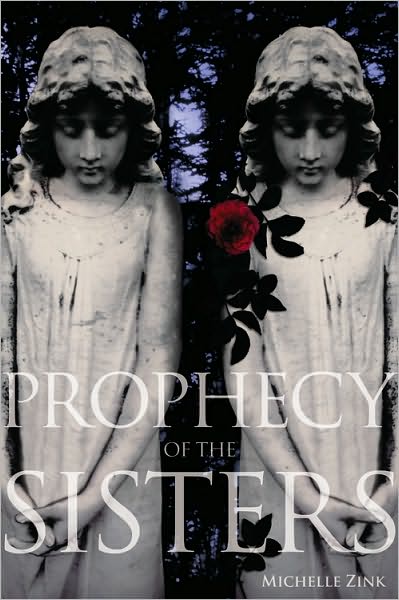 Prophecy of the Sisters
has been one of my favorites since it first debuted back in 2009. It's one of the few books I can re-read over and over and not get tired of it. Fresh, different, engaging. It's set in the Gothic Era, which is a nice change from YA books today right off the bat, and Michelle Zink captures the feel of that era phenomenally. From the moment I started this book, I was thrust into Lia's world. I understood her and felt for her and was ready to go on this journey with her throughout the story.
The mystery begins in the first chapter and continues, growing deeper and more gripping with each page. Narrator Lia has a great, distinct voice and the character development Zink does with not only her but her supporting cast is impressive. All are believable, all play specific roles and have specific voices. Even the twins are much different in part from the "one good, one evil" thing, which I love to see in books with twins or siblings.
The tone is dark, but the writing flows so effortlessly. Present tense, for me, is usually very hard to get into, but I didn't have a single problem with Zink's writing. It's different as well, without dialogue tags even, and with beautifully written description. Her attention to details is what makes this book work. She depicts the era and tone so well that I felt as though I was in the world. I was no longer in the 21st century while reading. I was there, with Lia, following her, and wanting just as much as her to unravel the mystery.
If you're looking for something different, something with magic, secrets, death, twists, riddles, dark rooms, raging rivers, strange marks, evil, and love, then
Prophecy of the Sisters
is for you. I highly recommend it for anyone wanting to try something new, especially if you like anything from the Gothic Era.
Prophecy of the Sisters
is also our giveaway this month! Along with its sequel,
Guardian of the Gate
. Make sure to check in later this week to find out how you can win! And learn more about the book and author by visiting the
official site
.